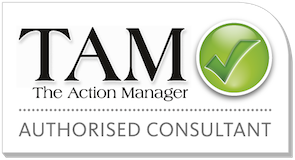 Keep your password confidential
Please make sure you keep your password confidential. If you suspect someone might know your password you should go to My TAM/My Details/User Account Details and reset your password. You can do this at any time and as often as you want.
Forgotten your password?
If you have forgotten your password, you will need to contact the person who set you up on TAM, or your immediate manager/supervisor, so that one of them can organise for your password to be reset on TAM. Once this is done, you should change your password next time you login to make sure only you know what your password is.
Best internet browser to use?
TAM can be viewed in Internet Explorer, Safari, Firefox as well as other browsers, but is best viewed in Firefox. You can get a free download of Firefox from Mozilla.
Warning
The TAM software application is protected by copyright law and international treaties. Unauthorised reproduction or distribution of the TAM software application, or any feature or portion of it, may result in severe civil and criminal penalties, and will be prosecuted to the maximum extent possible under the law. By clicking on the Login button, you confirm your acceptance of TAM's Terms & Conditions.
© TAM Software Limited 2007-2020
Version Date: Jan 14, 2020